How Business VoIP Expands Your Communication?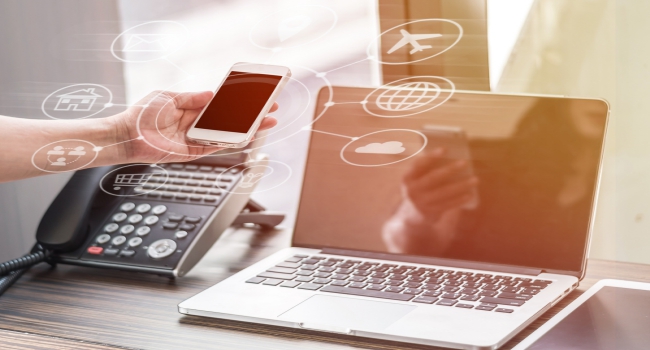 With the growing digitalization, the business VoIP  phone systems have been used dominantly in the business, and the communication has vastly improved as people can send videos and record everything. The speed, mobility, and degree of automation have really changed the system of communication. VoIP phone service providers offer various options to the companies for making the entire communication process smooth and provide various features in an inexpensive package.
Modernization Of Communication
The business VoIP has really dropped the prices of international calls making them cost lower than regular landline or mobile costs. In VoIP, analog signals are transmitted for voice, fax, SMS and messaging into digital signals which are sent by the internet to them. So VoIP makes phone calls or any other communication through the internet in a short span of time. VoIP is being readily used for its ease to use and price. VoIP works using the internet, it can be operated anywhere with an internet connection. This has made people work from remote areas or traveling abroad, do their work using phones or laptop.
Businesses were using office phones before, which limited their communications whereas top VoIP services have made the communication more effective and affordable. The internet is now a vital part of the business, making people work from sitting in the different parts of the world in a specific project together by discussing on live calls regarding the whole working.
Business VoIP At Present
With the quick advancement in technology, VoIP has dramatically changed within a short span of time. Through VoIP office phones, you can do more than just making calls; it keeps a record of the missed calls, incoming, outgoing calls and records all the calls for keeping the organization's data sorted. There has been a boost in the productivity of the entire company using the latest features and applications of VOIP.
VoIP has provided businesses effective alternative to traditional phone services by giving them an advanced network of various internet-capable multipurpose office phones. The phone companies are providing various services at a cheaper rate, which is a savior for startups and small businesses.
By using widespread technological tools such as smartphones, laptops and mobile broadband, VoIP has made the businesses more mobile where they can operate from different areas. The business phone systems Miami having VoIP connection make international or interstate calls without huge call costs. It is very easy to share files while maintaining the quality, track lists of the client, and access all information and history.